West Wales writer Dave Urwin is set to release his second collection of poetry, Plain Song from the Backstreets of Silence.
It will be launched at a live performance on Thursday, June 24th, 7pm, at Cwrw, 32 King Street, Carmarthen SA31 1BH. (Performance begins at 7.30pm). This event will also be live-streamed on You Tube on the night.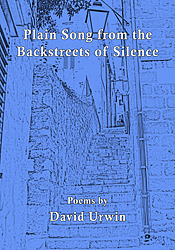 Dave believes that anyone who likes poetry will find something in this new collection to make them think, smile, cry or even laugh. He recommends reading the poems out loud, and disturbing the silence … for just a little while.
Co-organiser and MC of The Cellar Bards spoken word event at the Cellar Bar in Cardigan, Dave has a loyal and respectful following for his performance poetry in south-west Wales. Expect some lively performance poems at the launch as well as entertaining and thought-provoking readings from the book.
After spending his first few years in the wilds of rural Lincolnshire, where his father worked on farms, including ploughing with horses, Dave grew up in Manchester. He has had a varied working life – from civil servant to kitchen skivvy to milkman – but has mostly worked in agriculture and horticulture in different parts of Britain. He lives on a smallholding near Crymych.
Dave sees poetry primarily as an exploration of ideas, of language and of emotional responses to everyday life and events. He believes that poetry should make us think and ask questions, although sometimes simply entertain. His first poetry collection, Towards Humanity, was published in 2015 (Pinewood Press). Plain Song from the Backstreets of Silence was originally set for publication in Spring 2020, but was postponed because of lockdowns.
---
More information about the launch event here on the Facebook event.
The YouTube livestream link – click here.
Numbers allowed in the live event in Cwrw Bar will be limited in line with Covid regulations. Places must be reserved in advance by emailing: jackienews@hotmail.co.uk  (First come first served)
Plain Song from the Backstreets of Silence will be available direct from the author at the launch and afterwards by email order todpu6655@hotmail.co.uk
*If you are able to publish a review of Plain Song from the Backstreets of Silence please get in touch and we'll arrange to send you a copy.
---
Please follow and like us: