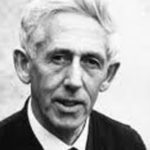 Vernon Watkins (1906 – 1967) was a poet, translator and painter. He was a close friend of fellow poet Dylan Thomas, who described him as "the most profound and greatly accomplished Welshman writing poems in English". Watkins read fluently by the age of four, and at five announced that he would be a poet, although he did not wish to be published until after his death. He wrote poetry and read widely from eight or nine years of age and was especially fond of the works of John Keats and Shelley. He read modern languages at Cambridge, but left before completing his degree.  Dr Rowan Williams, Archbishop of Canterbury (a good poet himself), regards Watkins as "one of the 20th century's most brilliant and distinctive yet unjustly neglected voices".
---
Books
The Ballad of the Mari Lwyd and other poems (1941, Faber and Faber)
The Lamp and the Veil (1945, Faber and Faber)
The Lady with the Unicorn (1948, Faber and Faber)
The Death Bell (1954, Faber and Faber)
The North Sea (1955, New Directions) – verse translation by Watkins from Heinrich Heine
Cypress and Acacia (1959, New Directions)
Affinities (1962, New Directions)
Fidelities (1968, Faber and Faber)
Uncollected Poems (1969, Enitharmon Press, limited edition)
Vernon Watkins Selected Verse Translations with an Essay on the Translation of Poetry (1977)
The Ballad of the Outer Dark and Other Poems (1979, Enitharmon Press)
The Breaking of the Wave (1979, Golgonooza Press]
The Collected Poems of Vernon Watkins' (1986) – reprinted as paperback Golgonooza Press
LMNTRE Poems by Vernon Watkins Illustrated by Alan Perry (1999, Ty Llen Publications) – chiefly poems for children
Taliesin and the Mockers by Vernon Watkins … images by Glenys Cour (2004, Old Stile Press)
Vernon Watkins New Selected Poems Edited … by Richard Ramsbotham (2006, Carcanet)
Four Unpublished Poems by Vernon Watkins' in The Anglo-Welsh Review; vol. 22 no. 50, pp 65–69.
---
---