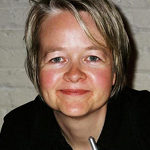 Sarah Waters (1966, E) was born in Neyland, Pembrokeshire but later moved to Middlesbrough when she was eight years old. As part of her research she read 19th-century pornography, in which she came across the title of her first book, Tipping the Velvet. However, her literary influences are also found in the popular classics of Victorian literature, such as Charles Dickens, Wilkie Collins and the Brontës. She is a best selling author best known for her novels set in Victorian society and featuring lesbian protagonists, a number of which have been adapted for TV or films.
Website – www.sarahwaters.com
---
Non-fiction
Waters, Sarah (1994). "'A Girton Girl on a throne' : Queen Christina and versions of lesbianism, 1906-1933". Feminist Review (46): 41–60. doi:10.2307/1395418. JSTOR 1395418.
Waters, S. (1995). ""The Most Famous Fairy in History": Antinous and Homosexual Fantasy". Journal of the History of Sexuality. 6 (2): 194–230. doi:10.2307/3704122 (inactive 2018-09-23). JSTOR 3704122.
Waters, Sarah (1995). Wolfskins and togas : lesbian and gay historical fictions, 1870 to the present (PhD thesis). Queen Mary, University of London.
Novels
Tipping the Velvet, 1998
Affinity, 1999
Fingersmith, 2002
The Night Watch, 2006
The Little Stranger, 2009
The Paying Guests, 2014
Television
Tipping the Velvet (2002), BBC Two
Fingersmith (2005), BBC One
Affinity (2008), ITV1
The Night Watch (2011), BBC Two
Film
The Handmaiden (2016)
The Little Stranger (2018)
---
---